ADB, PID officials inspect heritage sites at project area
Inter-school speech competition on water management and environmental protection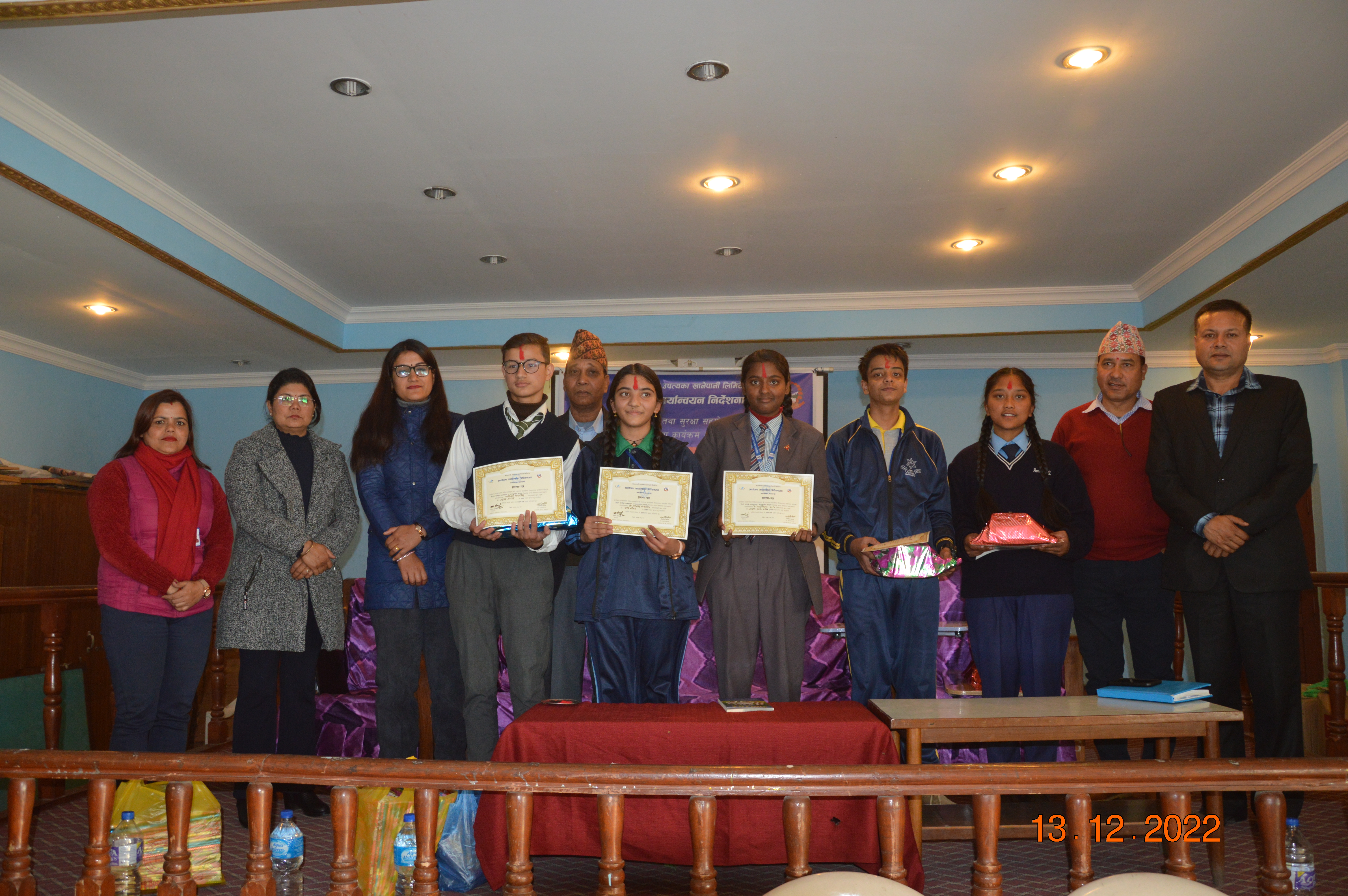 KATHMANDU: Kathmandu Upatayaka Khanepaani Limited- Project Implementation Directorate (KUKL-PID) in coordination with Shree Ratna Rajya Higher Secondary School organized an inter-school speech competition titled 'Management of drinking water and environmental protection' on 13th December, 2022.
Anubhab Acharya from Bageshwori Secondary School bagged first prize, Shristi Gautam from Shree Ratna Rajya Secondary School bagged second prize and Aakriti Kumari Mahaseth from Shree Viswa Niketan Secondary School bagged third prize in the competition. Awardees received gift hampers and certificates. Similarly, Srijana Praja from Shree Araniko Secondary School and Rehan Tiwari from Shree Shivapuri Secondary School got consolation prizes. A total of 25 students from 13 public schools in Kathmandu, Lalitpur and Bhaktapur district participated in the program.
KUKL-PID handed over a token of love to all participating schools and certificates to all the participants.
Community Awareness and Social Safeguard Consultants (CASSC) under KUKL-PID has been organizing school programs especially in public schools inside Kathmandu Valley aligning with project areas to aware public about the importance of water, health and sanitation. School program aims to prepare students as agents of change to aware their families and neighbors about the importance of drinking water supply, wastewater management, Melamchi Khanepaani Project and its benefits to Kathmandu denizens.
During the program, Chandra Bhakta Bista, Team Leader, CASSC highlighted on the objectives of the speech competition. He said, "Such programs enable children express their learnings about importance of water management and environmental protection," adding, "It is also an opportunity for teachers and all other present in the hall to learn from the children on this burning issue."
He also shared that Kathmandu valley lacks sufficient drinking water and the Melamchi Khanepaani Project is in its mission to fulfill current demand of drinking water within the valley. "Our project won't be able to fulfil the need of Kathmandu if people fail to utilize water in right way," he added.
Vidhya Bhandari, sociologist, PID urged all concerned to support Melamchi Project. Highlighting on the wastewater management and drinking water supply activities of KUKL-PID, she said that proper management of water is the need of the hour and everyone should be sensitive and act responsibly to accomplish project's mission. She said, "Water conservation is environment protection," she added, pleading all to take appropriate steps towards it.
During the program, the participants echoed, "water is life and there is no substitute for water". They further said that rather than blaming government and other agencies for scarcity of water, a responsible citizen should start changing activities and actions from oneself for proper water management and environmental protection.
2019-01-09
Last updated 3 mins ago
C#
Python
Java
C++
C
JavaScript
HTML
CSS